I'M BACK
i am so sorry i've been gone for so long from blogging – if anyone even reads this. i have had some crazy adventures lately. i moved into a new apartment, traveled out of the country and.. GOT ENGAGED! yay!
how crazy is that?? life has been so different this last month. i have a few blog posts planned for the next few weeks – they will include a mini apartment tour/update, a vancouver travel diary and a banff travel diary. i'm hoping to get some of my photos edited and up on the blog from our trip this weekend! let's hope i can find the time/motivation. our week long adventure in canada was amazing, but also exhausting. i'm really looking forward to just taking it easy this weekend.
SO, i'll stop beating around the bush and just get down to business. a ton of you have been asking for all of the details on my engagement. so here we are!
we had been planning this trip for about 6 months officially, but dreaming of it for over a year. i mean, banff has to be one of the most incredible places on earth. it's so beautiful! we had spent the whole day hiking: lake louise, lake agnes, mirror lake, etc. we were exhausted at this point but one of our last stops for the day was emerald lake. this is about a 20 minute drive from lake louise. we got there around 5pm, so since the day was coming to an end, there weren't a whole lot of people there.
we walked around the lake and enjoyed the view, but dominic kept wanting to walk farther and farther around the lake (i now know why). i finally forced him to stop so we could sit and enjoy the beautiful turquoise and calm water of emerald lake. gosh, i will never get over how beautiful the view was.
we sat down and enjoyed it for a while, but then i suggested we move on to the next adventure. dominic was behind me digging through his backpack (i now know what for) and i had just stood up to get one last look at the lake. he called my name and just as  i turned around to say "what!", he suddenly got down on one knee. i instantly panicked! i'm such a nervous/shy person in general so i really had no idea what to do. i immediately started saying "omg really?? right now? really? dominic, get up off your knee!" – i was just in complete shock! after that, i basically blacked out. i do not remember what i said or did, haha. i don't even know if i officially said "yes!".
that basically sums up how it happened! dominic had been planning to propose the entire trip, but didn't know when he was going to do it, so he carried around the ring in his pocket/backpack for days. i'm so impressed! he carried it through all of our hikes and even canoeing. it could have easily been lost, but it worked out perfect. the timing could not have been better and it honestly just felt right.
THE RING
so, i won't bore you with too much detail about the ring, but it's moonstone! it's also a three piece set, so i can wear each ring separately if i want to. i am not a jewelry person whatsoever, so having a large expensive engagement ring was just not something i wanted. i searched for so long until i found the perfect one! i had always wanted moonstone as well. i just love the way it looks and how it changes color in the light. it also represents new beginnings and passion, which i thought was super cool. i'm all about meaning when it comes to jewelry and things like that. there are tiny little diamonds on the other two bands that i think are just the cutest. i also have super small hands, so i had to really make sure i found a ring that wasn't too big or it would just not fit my hand right. i think it's the perfect size!
here are a few photos below! these were just taken from my phone. i'll have nice photos edited/uploaded later this weekend from our trip.
i also want to thank EVERYONE for all of the kind words. seriously. we are surrounded by some pretty awesome family and friends and we cannot say how grateful we are enough!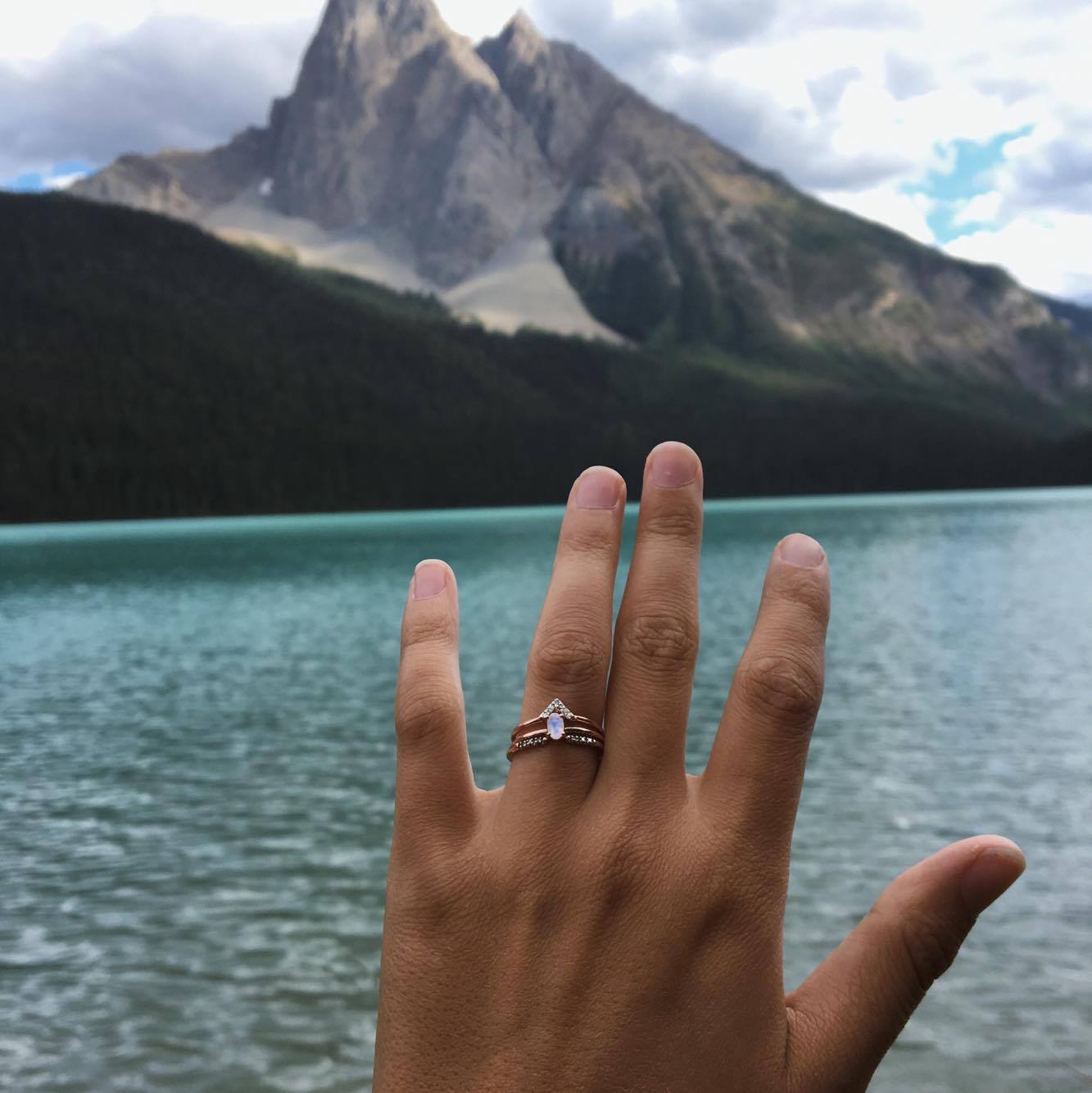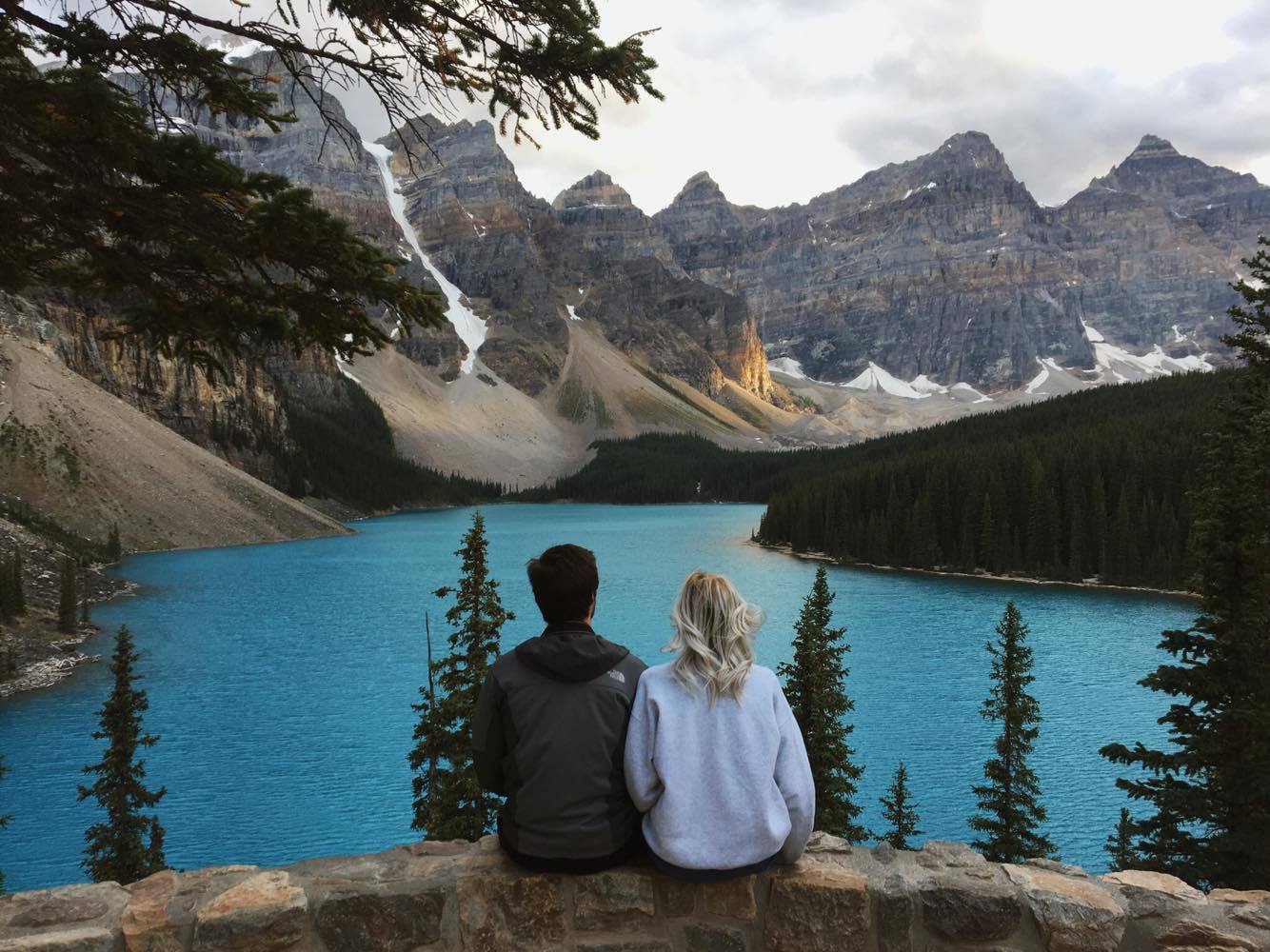 this was taken at moraine lake! which is where we headed right after emerald lake.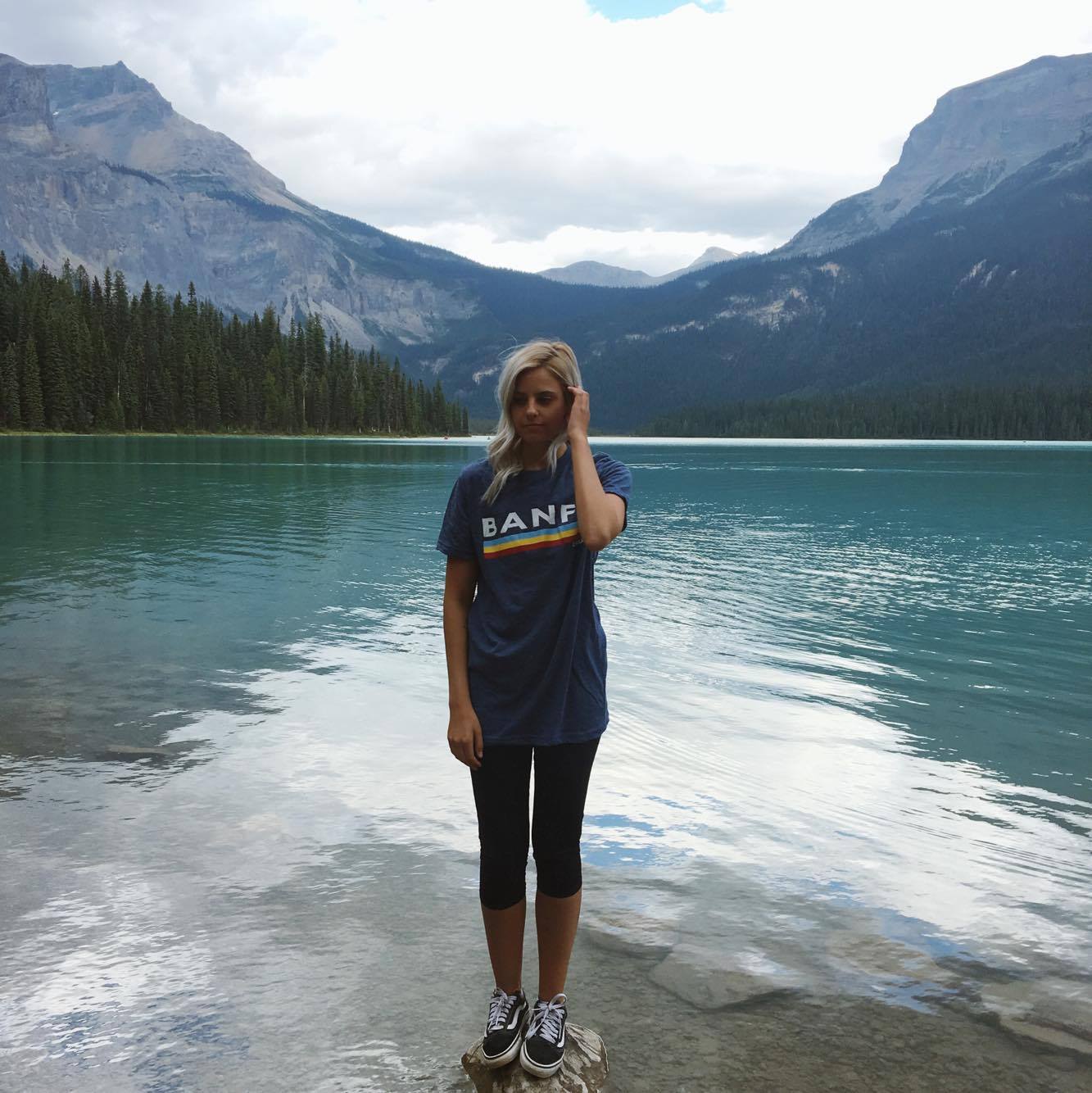 minutes before it happened! as we were just walking around taking photos.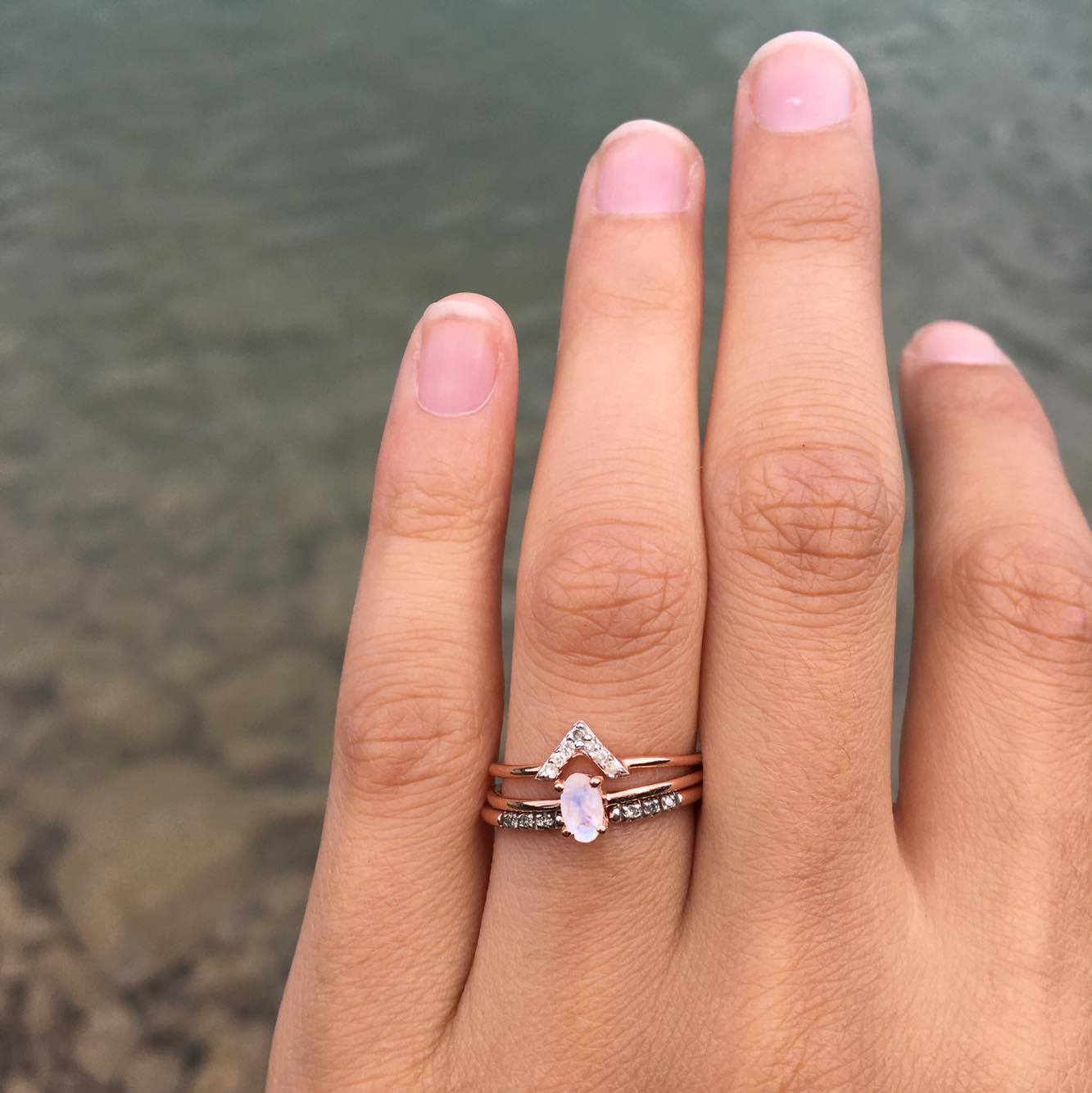 i'm just so in love with it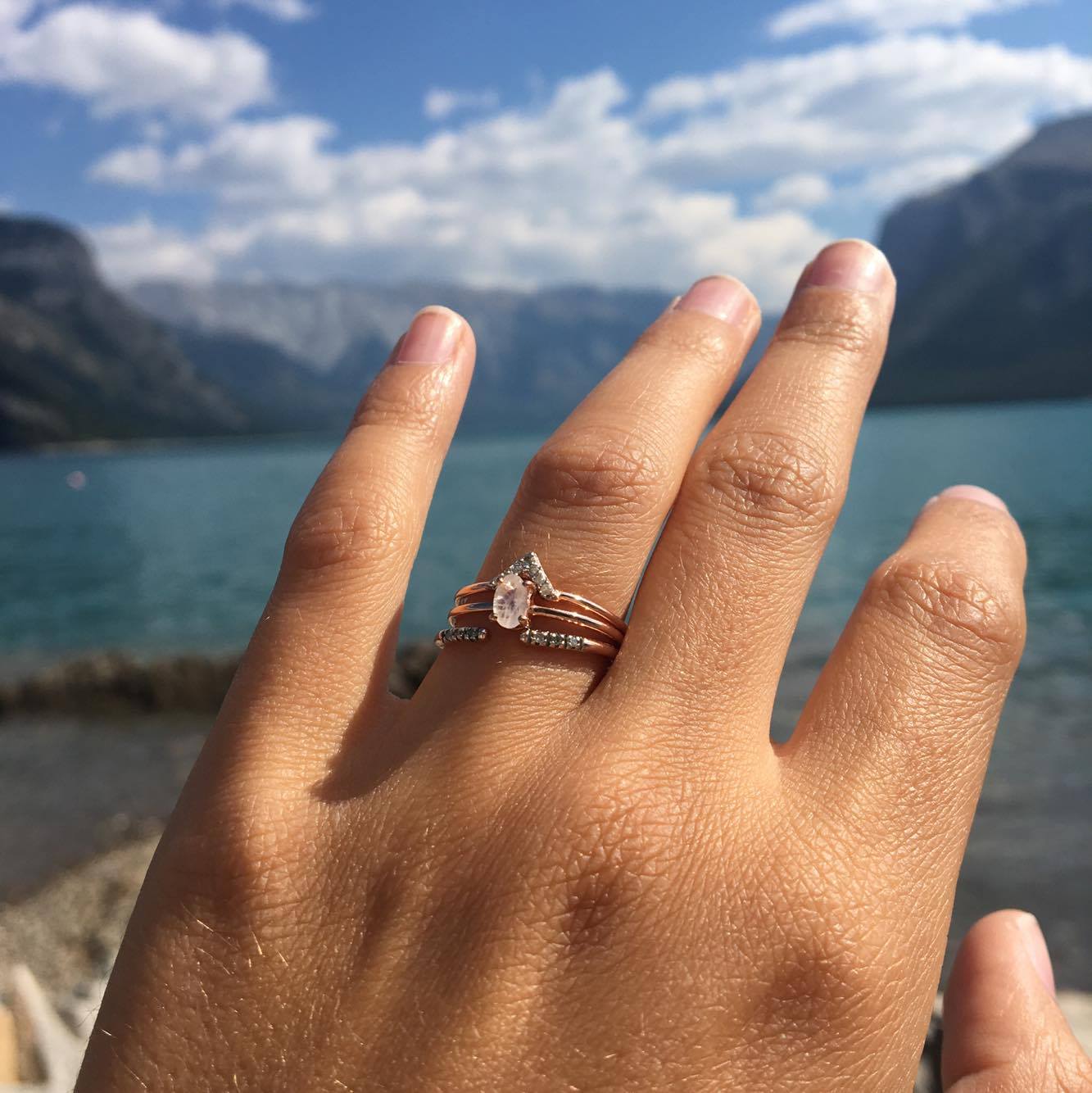 last one!
again, sorry i have been away for so long! stay tuned for all of my travel photos.
xo,
courtney raf